More ways to
give in 2021



Welcome to Australia's most unique
and dynamic Jewish teen program
We've taken our popular , one of a kind volunteering program – Twelve & Thirteen - to a new level with the introduction of The Giving Channel to create more ways to give – including welcoming families from interstate.
​
Both programs provide opportunities for bar and bat mitzvah families to help people in need. The Giving Channel engages families online, while Twelve & Thirteen will provide its classic, face to face volunteering experiences in small groups.
Together, our children will continue to grow through giving.
Join us and make a difference at a click or in person. The choice is yours.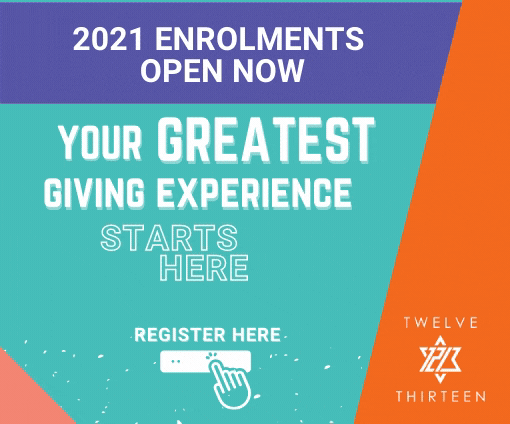 Pluralistic - we bring to life the Jewish values of tzedakah, community, growth, respect and empathy.
​
Shared experience - Teens and parents volunteer together to make the barmi/batmi year even more meaningful.
​
Behind the scenes access - Connect with organisations and experiences with womens' shelters, homeless centres, soup kitchens, hospital programs - usually closed to the public.
​
Diversity - Bringing Jewish families from all corners of the community together with a common purpose, to explore a range of social justice issues.
OUR PARTNERSHIPS
Our family volunteering opportunities give you the ability to help others by working with organisations in both the Jewish Melbourne community and the wider community. We handpick the most dynamic, engaging not for profits in Melbourne.
Thank you to our amazing team!
We could not do what we do without the support of an amazing team of dedicated volunteers.
Our Programs help provide vital services to vulnerable people and go a long way to make sure everyone is treated with respect, kindness and dignity.
"Being in the Twelve program has made me want to be an adult that gives back to the community and helps out! The thing that I have learnt is that there is always time to help."
​
Gemma, Twelve 2017
LATEST NEWS